MonSTARS — They're Just Like Us!
by NeigerDesign
The sun is setting sooner, and it might help you to start the Fall season off with a smile. So we have decided to share some of the tomfooleries that go on between churning out top-notch creative solutions from the NeigerDesign in Evanston. This October, we enjoyed Halloween and took a fun lunch break from that "daily grind" to dress up as we all became different "Monsters Doing Mundane Things:"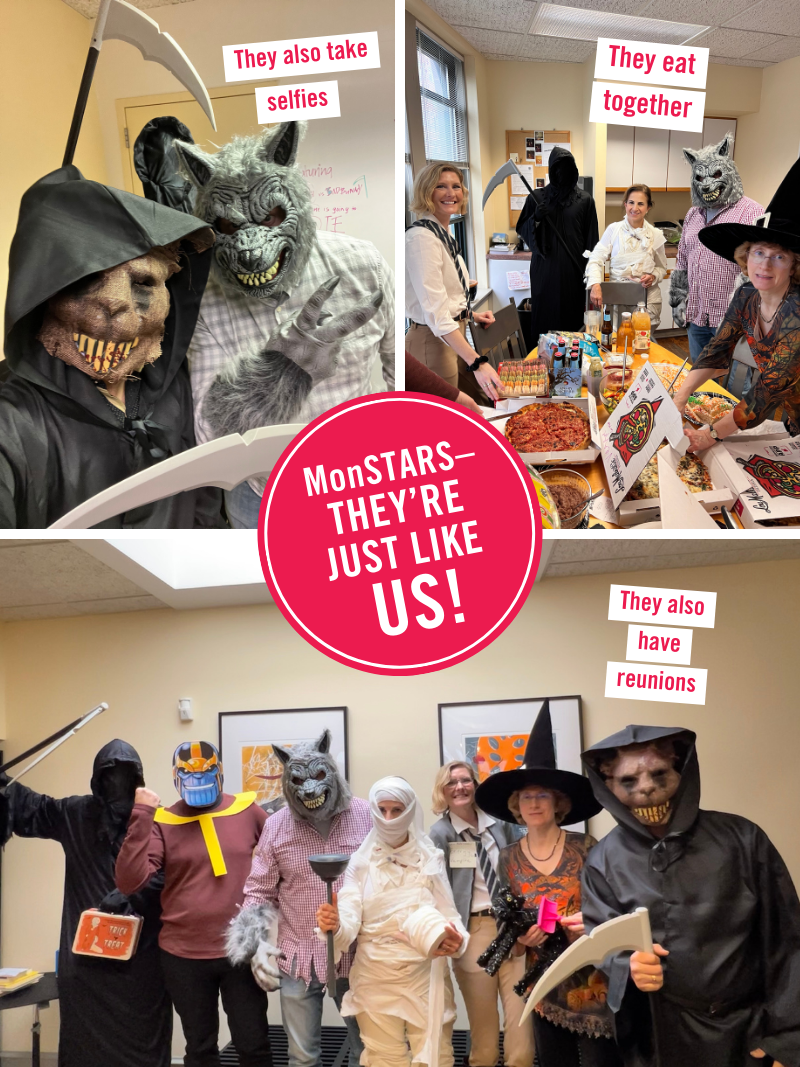 The NeigerDesign Team, Killing It Halloween 2022
We snacked, played tricks, and were treated to a Halloween-themed lunch, desserts, and fabulous, Halloween trinkets. We sat around the table and opened them up. Luckily measures were taken to avoid any werewolf-related incidents, and we only fell asleep once from the life-sucking energy vampire in the room. Rutu — voted the most up-and-coming Pumpkin Designer of 2022, went home with our Grand Prize, the Ouija board
Our Annual Costume Competition
The ballots were counted, and the numbers were tight. The Mummy came in first, alongside her "unused and new" (she promised) plunger. Second place went to the Werewolf and his busy sewing machine (can you imagine how much thread he goes through?). The rest of us got participation prizes! See below to delight in our costumes. Then read on to see what else we got into this Halloween👻.
First Place:
Mummy Caught Going to the Bathroom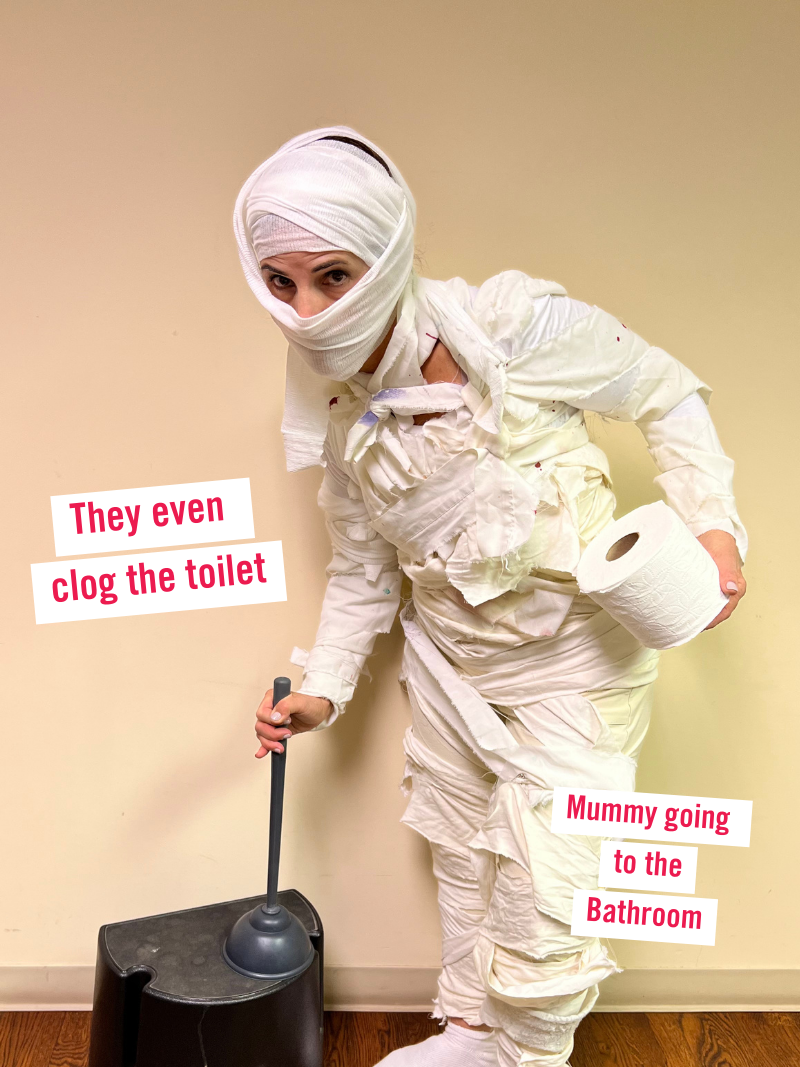 Carol Neiger, President & Owner
Second Place:
Werewolf Salvaging Shredded Shirts with Sewing Machine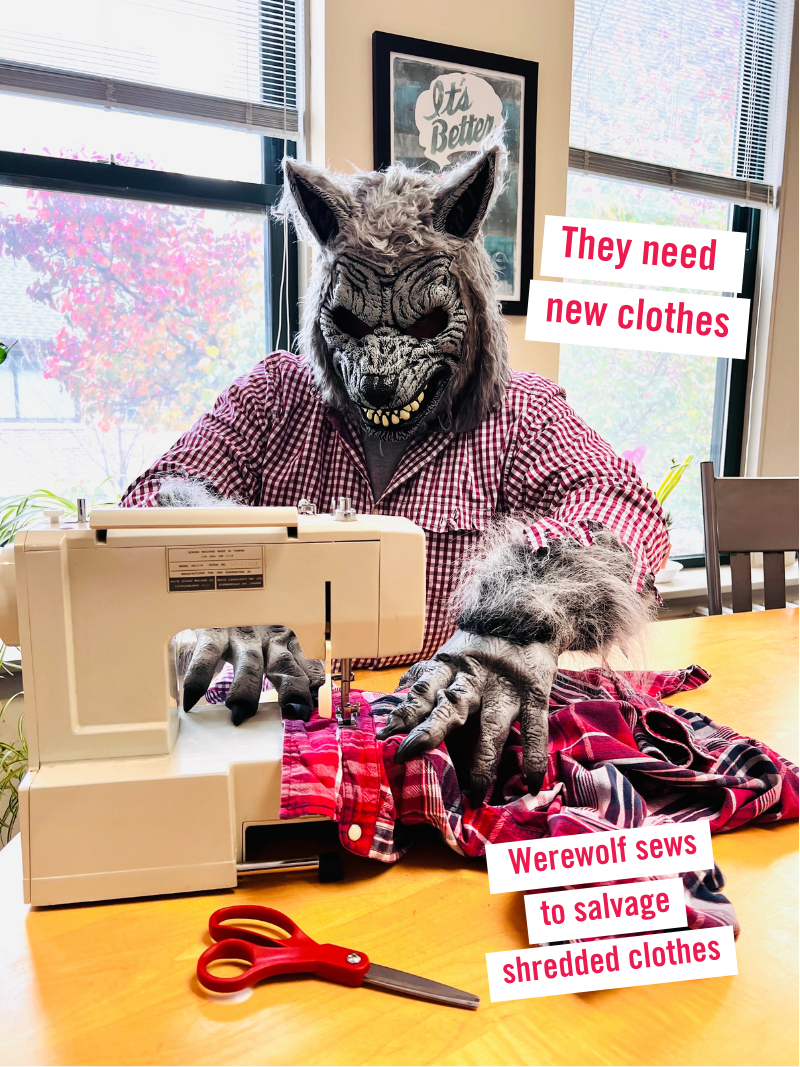 Jonathan Amen, Creative Director
Participation Awards:
A Witch Grooms Her Cats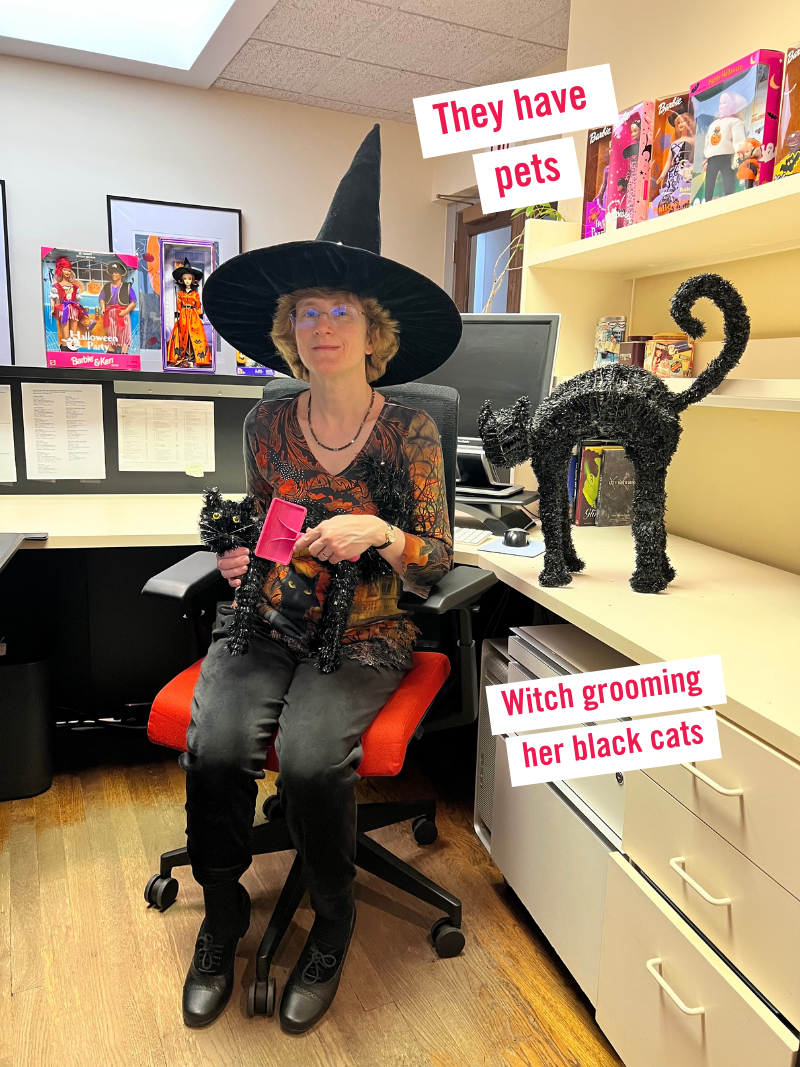 Molly Kettler, Office Manager
Thanos, Balancing His Checkbook.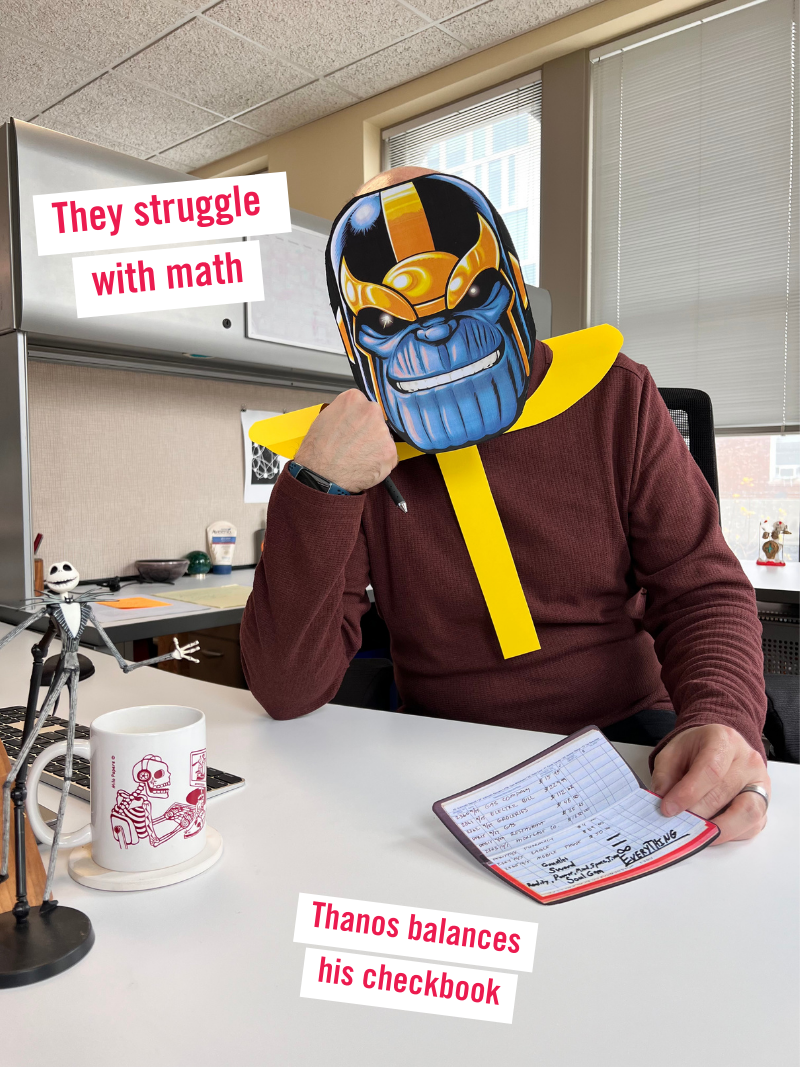 John Shaw, Director of Web Services
Bad Bunny Goes to the Dentist (someone had their teeth whitened!)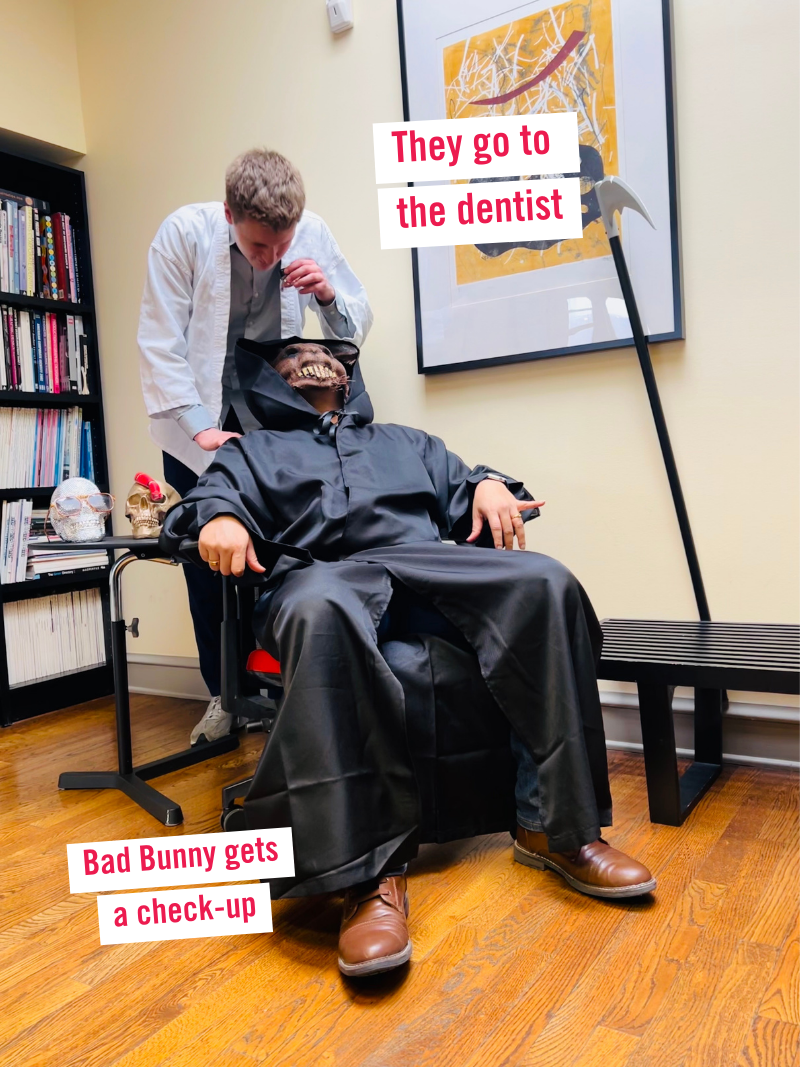 Rutu Palav, Graphic Designer
Take Your Lunch Break in Style with Death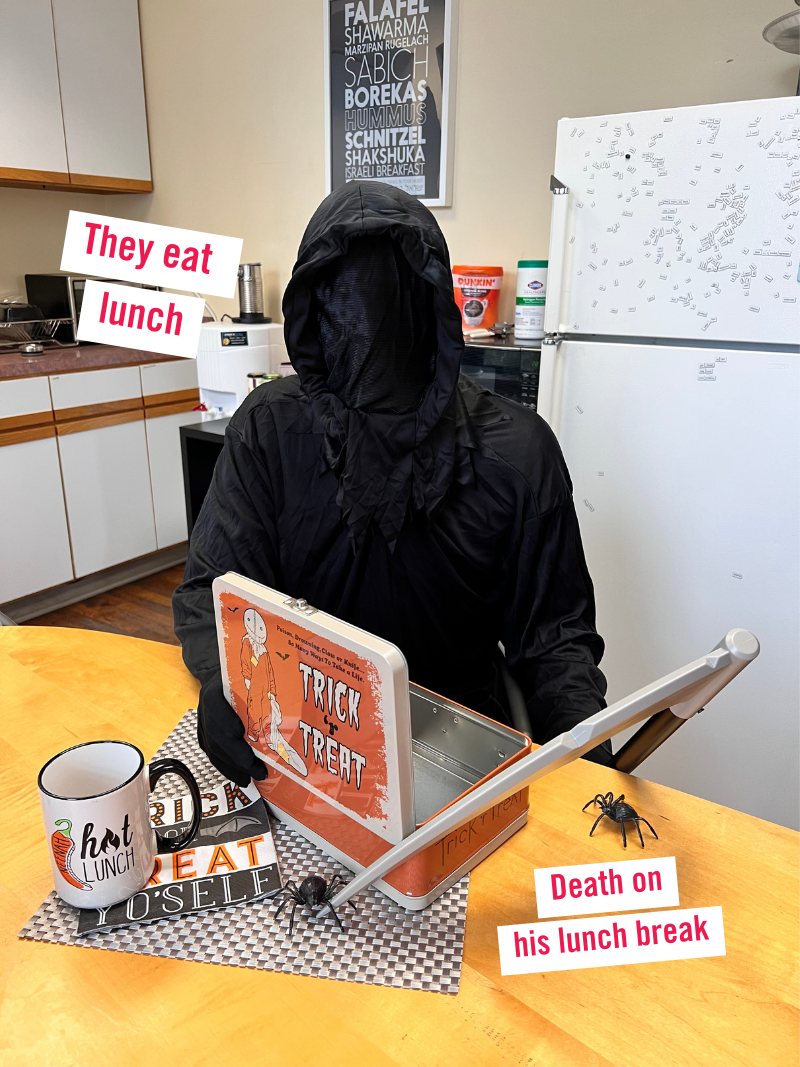 Grady Coyle, Front-End Developer
Energy Vampire — Coming to an Office Near You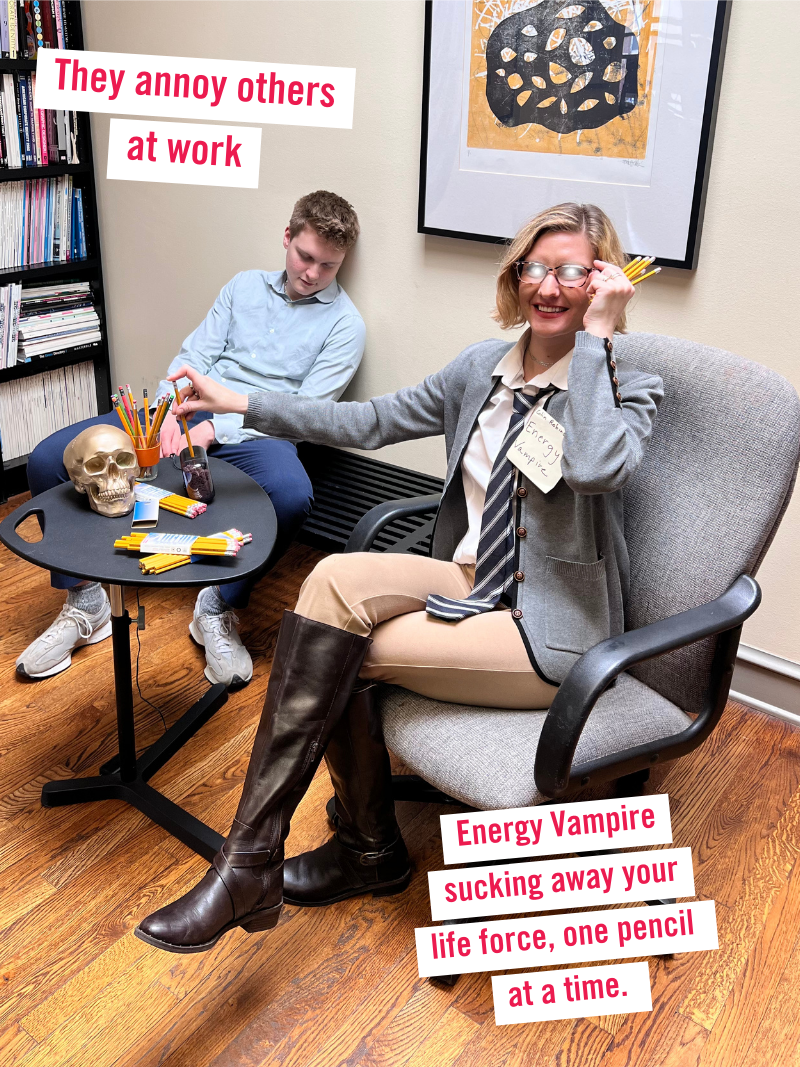 Julie Hillgard, Marketing Manager
Medusa Seen Downtown, Gets a Blow-Out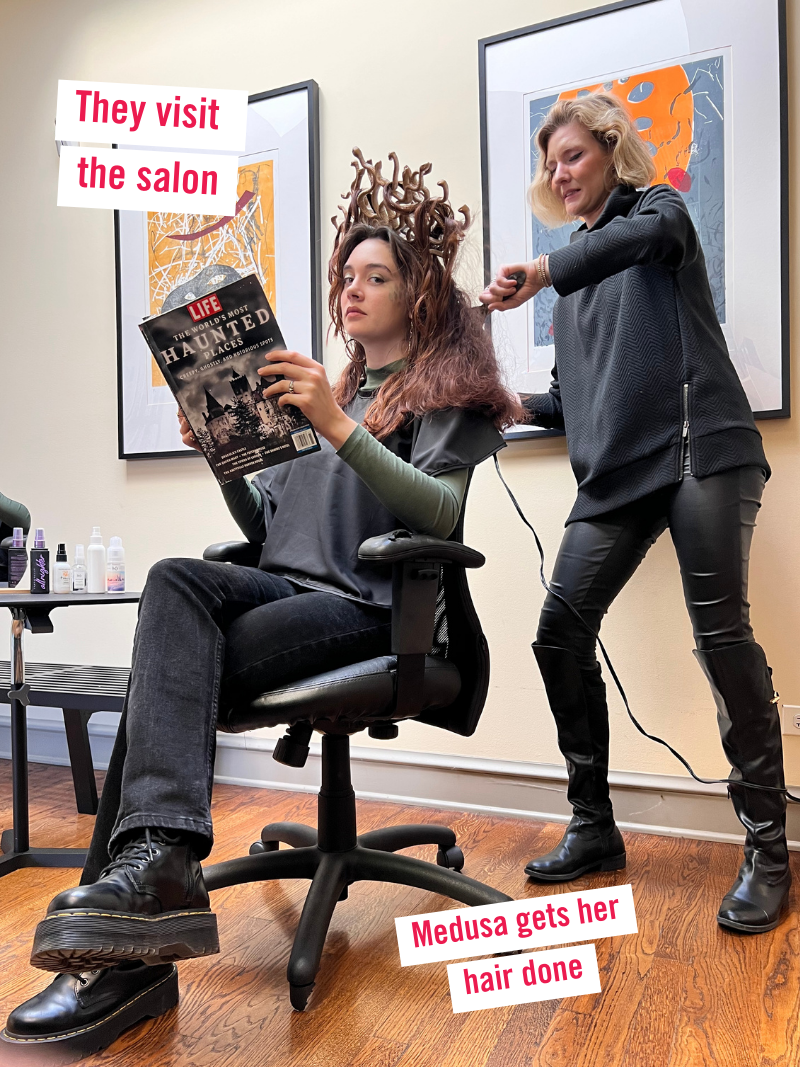 Jessie Blaisdell, Marketing / Digital Strategist
Pumpkin Impressions
In addition to dressing up, the NeigerDesign team competes annually in a friendly design competition where each of us designs a pumpkin. We take a field trip to the patch together and pick similar pumpkins, but the final results couldn't be more unique and different from one another! We secretly carved, painted, or decorated our pumpkins at home and brought them in without labeling who made which. We spent the morning guessing (incorrectly).
Rutu Palav, one of our graphic designers, won this year's Annual Pumpkin Design competition with his adorable and skillfully executed "Pumpty-Dumpty Family." Second place went to John Shaw, Director of Web, who carved and created a dazzling light-up NASA astronaut pumpkin named "A Space Halloween," with creative props that popped! Coming in third place was Jonathan Amen, Creative Director, who made us all smile, per usual, with a Monty Python-themed entry, "The Pun King" (you can't go wrong with that). Thank you to everyone who voted and helped make this year special!
First Place:
The Pumpty Dumpty Family
Brought to you by Rutu Palav, Graphic Designer Extraordinaire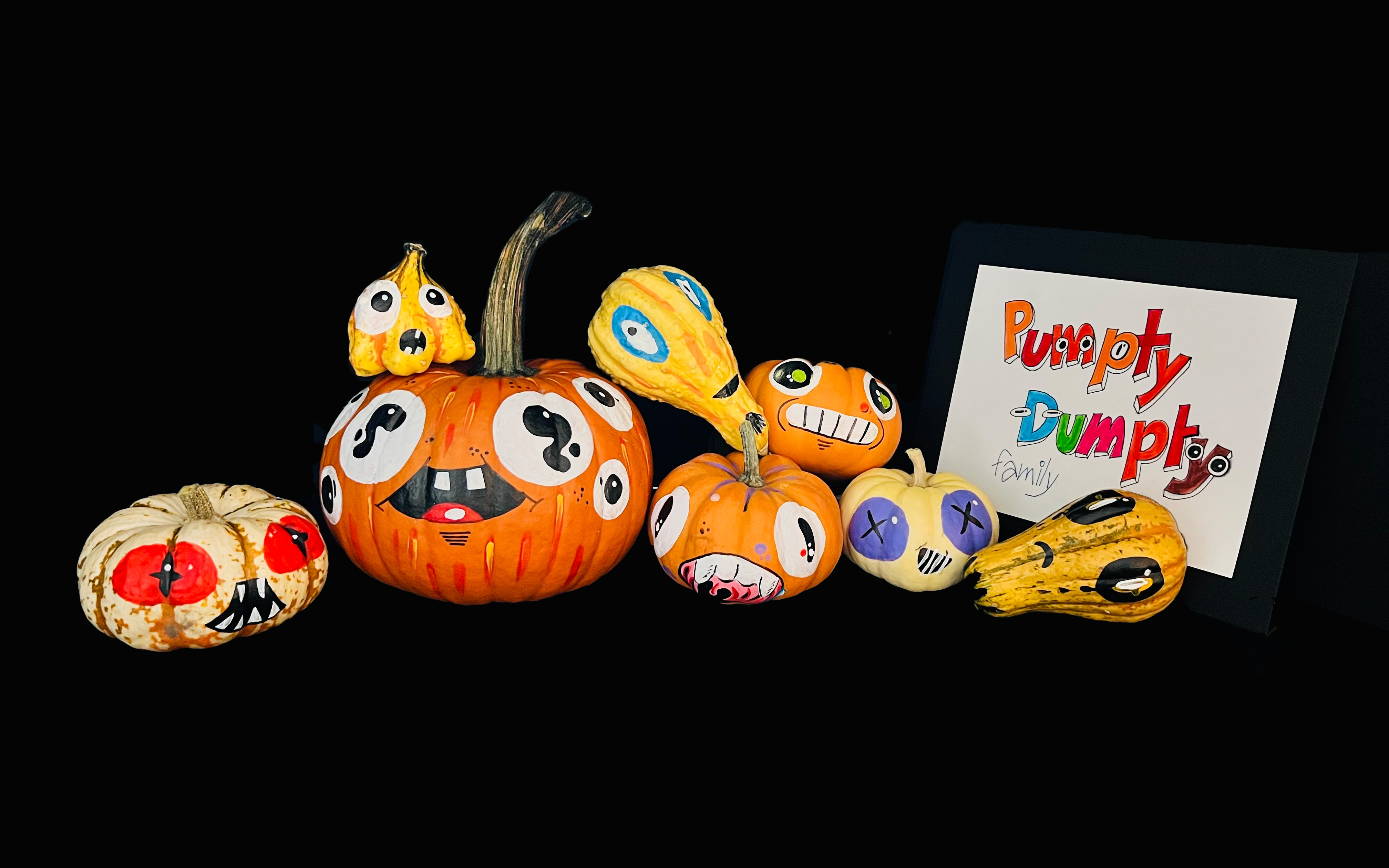 Second Place:
A Space Halloween
John Shaw, Director of Web Services, Lighting Up the Office
Third Place:
The Pun King
Art Directed and Designed by Jonathan Amen, Creative Director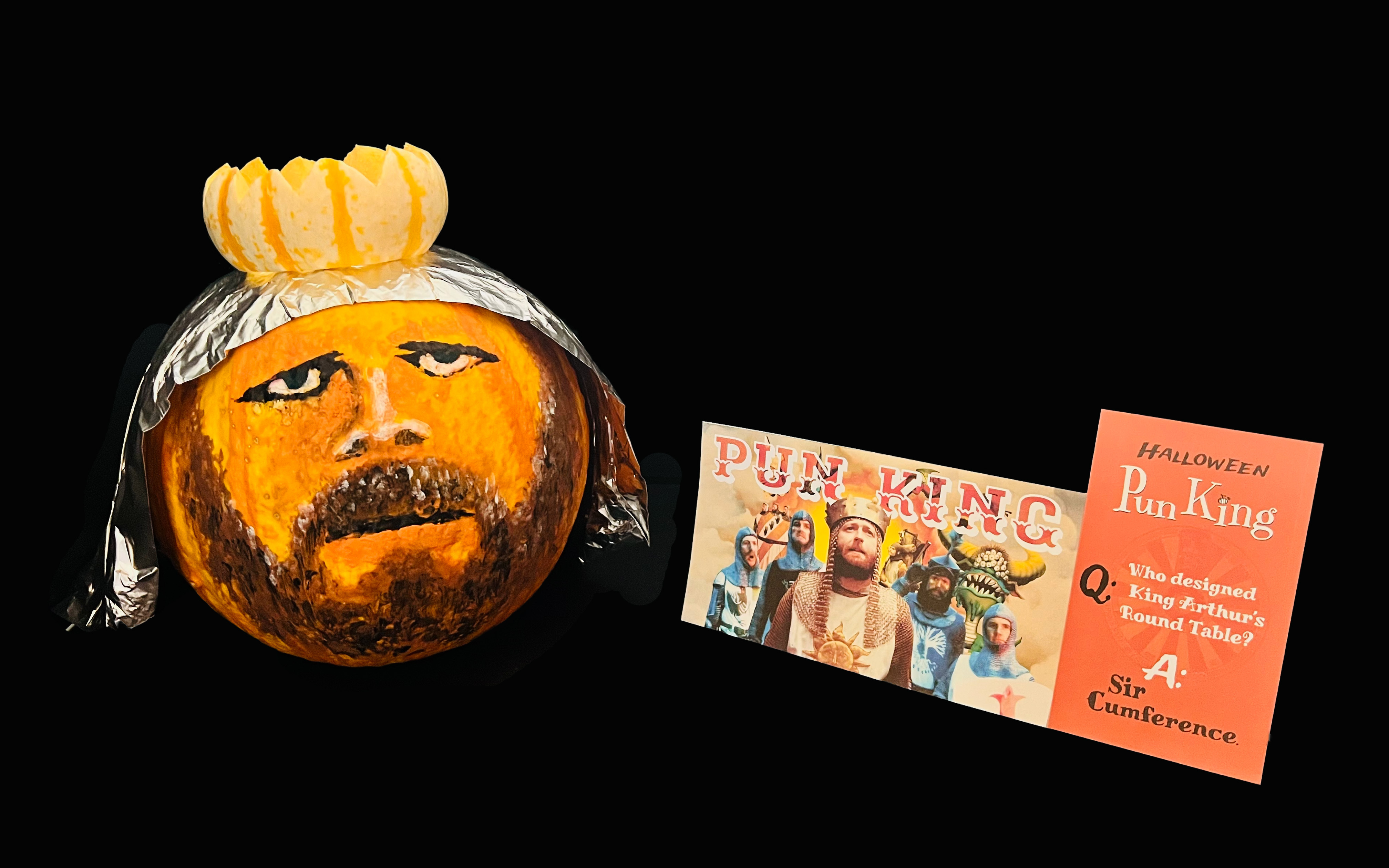 And here are the rest of this year's entries:
Left to Right: "The Many Faces of Day of The Dead" by Molly Kettler and "Jesse Pumpkin" by Carol Neiger
Left to Right: "Ghosted Pumpkin" by Julie Hillgard and "King Snake of the Pumpkin Patch" by Jessie Blaisdell
"Keith Harlloween" by Grady Coyle
Explore our website further to stay current with our blogs and learn more about marketing and web strategies that help support your marketing efforts.
Take a (slightly scary) stroll down Halloween memory lane and see some past favorites!
Stay tuned for our next blog, written by our Front-End Developer and music enthusiast – Grady Coyle! He will teach us about the importance of website accessibility and inclusive design. It is a must-read for any web developer or designer.